Boat up to 13 passengers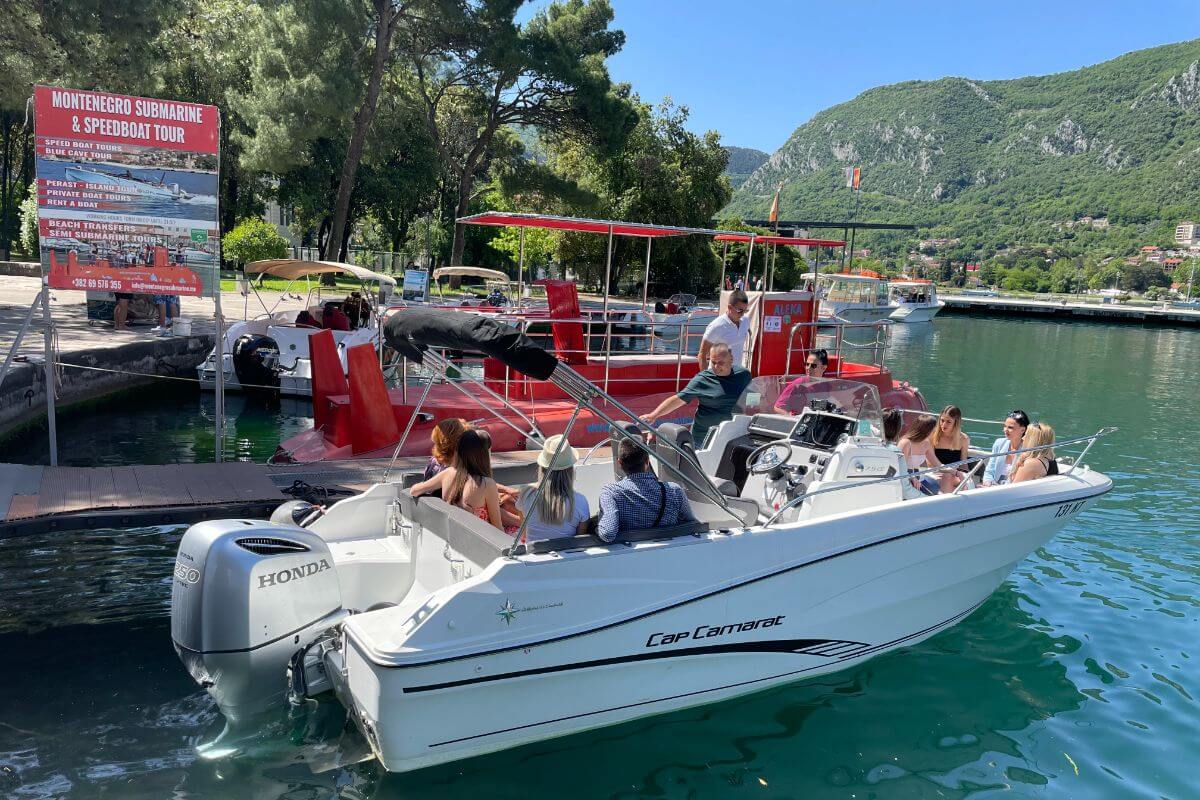 TOUR DESCRIPTION
Highlights
Looking to explore Boka Bay at your own pace & choice of stops? We offer the possibility of organizing private tours and renting boats with a skipper per hour.
Organizing private tours can include sightseeing and visits to destinations you prefer, swimming and sunbathing on attractive beaches, as well as organizing lunches in restaurants right by the sea.
If your group has up to 13 members, we have the following speedboats:
Jeanneau Cap Camarat 7.5 CC
Atlantic Marine Open 750
Both speedboats are made in 2019/20 and have a 250 HP Honda engine. In part More info, on this page, you can find all the details!
If this offer suits you best click on the yellow button and book a speedboat online.
PRICE
Price is defined per hour
1h - 150€
2h - 300€
3h - 400€
4h - 450€
8h - 800€

Note: The bookings above 4 hours are made upon request.
If you have more than 13 people in the group, you can rent a bigger speedboat. Just send us a request and we will send you the best deal!

In our offer, we also have speed boats for up to 10 passengers, Don Amon for 15 passengers, and 25 passengers - Excursion 36. Just select the appropriate one and contact us!
At once our capacity is 250 passengers!
This tour is a definite must on any traveler's to-do list. Make sure to reach out and book an experience that you will never forget. Click here and book on time.
INFORMATION ABOUT TOUR
Included in price:
Free Wi-Fi access
Fuel
Water
Insurance
All Fees and Taxes
Licensed skipper and guide (English-speaking)
Not included in the price:
Soft drinks, beer, or domestic brands (rakija) can be purchased upon request before departure
Boat equipment:
Life jackets (available in all sizes): babies, children, and adults
Snorkeling masks
Safety & emergency equipment
Sun protection (boat shade)
Sundeck cushions
Music (USB, AUX and Bluetooth)
Swimming stairs
Raincoats
12V socket
Soft and comfortable pillows to sit and enjoy
Not allowed on the boat:
Large travel bags
Smoking
Recommended to bring:
Swimwear and towel
Booking confirmation (printed or in mobile form)
Passport or Government-issued ID with a photo
Sunglasses
Sunhat
Camera
Sunscreen (we suggest SPF 30)
Comfortable shoes or sandals
Jacket for chilly weather
Important notes:
If you want to go inside the church you must have a t-shirt (it is not allowed the enter in swimwear)
It is forbidden to use drones and to swim at Our Lady of the Rocks
During April, May, September, and October, the church of Our Lady of the Rocks and the museum are open until 5 pm. In June until 6 pm, and in July and August until 7 pm
We recommend you dress warmer during the spring and autumn months because it can be chilly
Pets are allowed on board
MONTENEGRO SUBMARINE AND SPEEDBOAT TOUR LOCATION
It is very easy to find our location and starting point. Whether you are coming from the Old Town of Kotor or from Cruise Ship Terminal, here is a photo to help you find it OR you may check it via Google Maps here.
The tour Bay of Kotor and Blue Cave Adventure starts at the city park near Kotor's port, 200 m from Old town's main gate (red pin).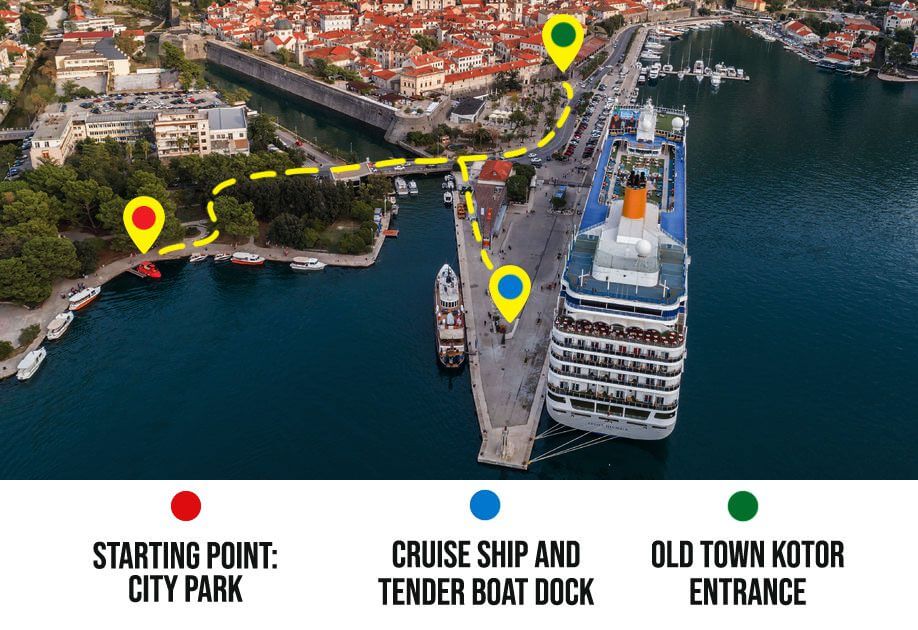 You will see a big red sign MONTENEGRO SUBMARINE & SPEEDBOAT TOUR.
If you have any questions, you may contact us via WhatsApp, Viber, or Telegram at +382 67 711 999, +382 69 576 355, and +382 67 811 927 or via chat on our site.
You can also write to us at [email protected]
IMPORTANT QUESTIONS AND ANSWERS
What is the starting point for the personal rental of a boat on the Kotor Bay tour?
The Starting point is at Kotor City Park, which is a few minutes away from the Kotor Old Town and the Cruise Ship Terminal (in case you are a cruise passenger).
On your request, there is a possibility of a hotel pick up, at the nearest pontoon from your accommodation.
Do I get a life jacket on this boat rental private tour in Kotor?
Yes, you do. We have life jackets in all sizes.
I get seasick. Do you still recommend I go on this private boat rental Kotor tour?
In this case, we recommend you to go, but only on a short Kotor Bay boat tour, up to 2h max. For more information click here.
What is the price of the rent boat Kotor tour for up to 13 people?
The price for a boat rental for 1h is 130€, for 2h - 250€, 3h - 350€, 4h - 400€ and for 8h price is 700€.
If we are a big group of more than 10 people, do we get some kind of discount?
Yes, you do. The discount is set up according to the number of passengers and the duration of the private Kotor Boka Bay boat tour.
Is there a dress code? Can I go in a swimsuit?
You can go in your swimsuit, but you cannot enter the church of Our Lady of the Rocks wearing one without a cover-up.
Can I cancel a rent a boat private speed boat tour that I have already booked?
Sure, you can. For a full refund, you have to cancel 24h in advance.
Can I bring my baby with me on a private Kotor Bay Montenegro boat tour? Is there an age limit?
No, there is not. You and your baby are welcome.
Do you have a place where I can charge my phone on the speedboat?
Yes, we do. Our boats are equipped with power outlets as well - 12V.
Do you have drinking water on the speedboat?
We do have drinking water, and it is included in the price.
What does the private Kotor rent a boat tour price include?
The price includes insurance, all taxes, and fees. Also, fuel is included in the price. You get free access to the WiFi, life jackets in all sizes, an English-speaking licensed skipper, and a free hotel pick-up in Boka Bay (only on request) by speedboat.
What kind of document am I supposed to take with me on board?
You should take some kind of ID and your booking confirmation.
Is it allowed to swim during the private boat rental tour?
Yes, it is. Only near Our Lady of the Rocks, there is no such possibility, because it is forbidden.
Can I take my dog with me on a private Kotor boat rental tour?
Yes, you can.
Do we get a chance to snorkel during the Kotor Bay private speedboat tour?
When you book a private tour, we can arrange everything as you wish, including snorkeling or diving. We have our diving masks to offer you, and it is free of charge.
Can I pay by credit card for the rent of a boat service?
You can pay on our website via American Express, Visa, or Master credit card. We also accept PayPal.
Do I get my money back in case of bad weather?
Yes, you can get a full refund or you can reschedule the tour.
What is the shortest tour?
The shortest time for the tour is 1h by semi-submarine. For more information please click on Kotor Panorama and Underwater experience. Also, you can book this speedboat if you want only for a 1h tour.
If we are a group of more than 13 people, do you have a bigger speedboat to rent?
Yes, we do. We have bigger speedboats for 15 and 25 people. You can check it here for boats up to 15 persons and on Excursion 36 for boats up to 25 persons.
Can I bring my food and drinks to the speedboat?
Yes, you do.
We are organizing a party for a friend. Can we play our music on the speedboat?
Yes, you can. You can play it via Bluetooth, USB, or AUX connections.
Do you have WiFi?
Yes, we do, and it's free of charge.
What is the cancellation policy for the private speedboat tour of Kotor Bay?
You get a full refund if you cancel 24 hours in advance.
Can I smoke onboard?
Unfortunately, smoking is not allowed.
Video