Bay of Kotor and Blue Cave Adventure 3h
493 reviews
Tours are every 3 hours in the period from 09:00 am to 09:00 pm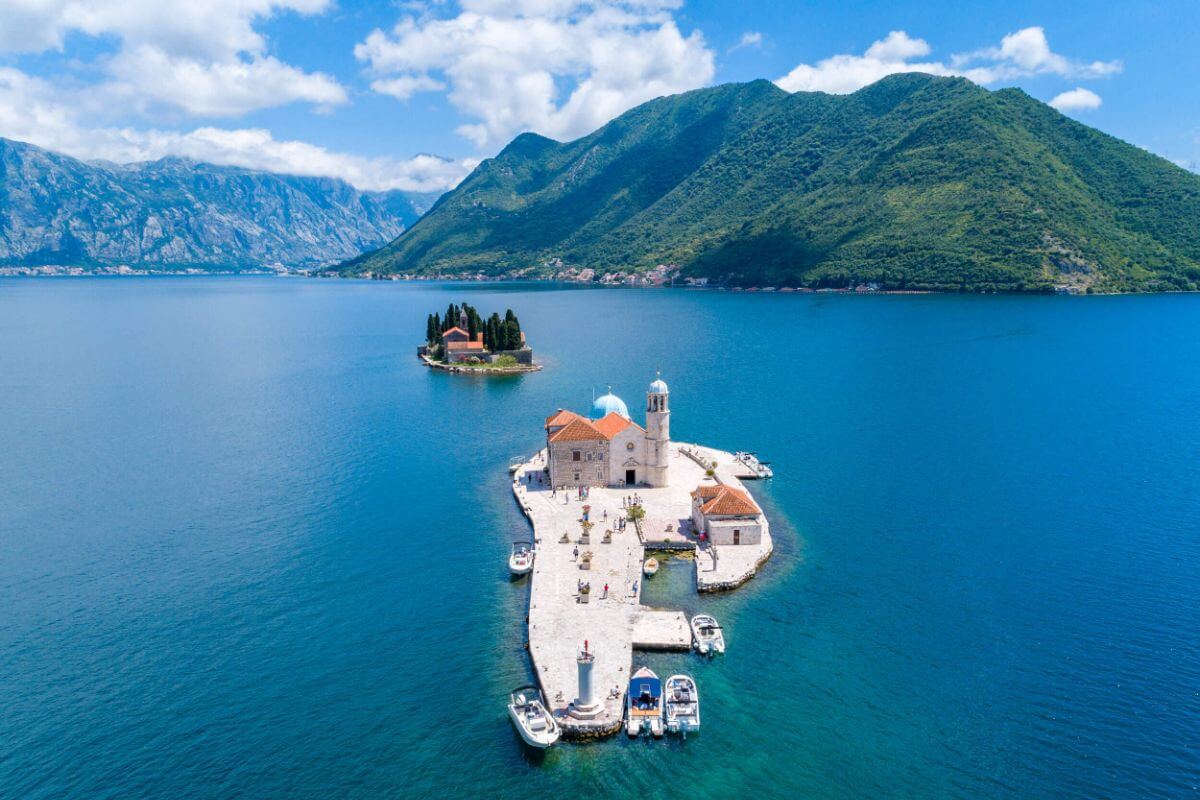 TOUR DESCRIPTION
Highlights
Hop aboard our boat and experience the rich history and culture, as well as the undeniable beauty of Boka Bay. This tour includes cruising around the Bay of Kotor, in which you will enjoy panoramic views of fishing villages, churches, and many more historical monuments.
Cruise around the Boka Bay
The extensive 3-hour Boka bay tour begins at the City park, near the seaport of Kotor. There's a friendly captain who will await you and make sure you're seated safely and comfortably for what's planned to be an enthralling cruise around Boka Bay.
Our first stop is at an islet in the middle of Boka Bay, which holds the name of the church that's settled on it – Our Lady of the Rocks. There are many legends that speak of the phenomenon, but the most accepted one talks about the discovery of an icon of the Holy Mother of God with Christ by seamen.
In remembrance of this occurrence, local fishermen promised to throw rocks at the same spot where the Lady had been found, thus expanding the surface of the space and creating a charming artificial islet, where visitors can witness the church that's been built in Her honor. The inside of the church dates back to the 15th century and stores countless Baroque paintings (from Montenegrin, as well as Italian artists) votive tablets, and tapestry. Outside the church is a small gift shop where you can get something that will remind you of this great visit.
After Our Lady of the Rocks, our journey continues from the bay of Kotor to Tivat Bay which has breath-taking views as well.
Next is Herceg Novi Bay, a coastal town settled at the entrance of Boka Bay, rich with culture and especially known for its Byzantine and oriental architectural styles.
Our cruise will also lead us to the infamous island Mamula, which was once a concentration camp in World War II. The sight of it will both curdle your blood while also blowing you away with its abundance in natural beauty and rich history. But even more in-store with our visit to the ex-submarine military base which description we'll leave up to you.
To conclude the trip we've specifically reserved the Blue Cave as a spot for taking a refreshing dip in the mesmerizing nuances of its blue surrounding. This place, accessible only by boat, is renowned for its crystal-clear water, the cave that envelops its blue waters, and the serenity of its natural setting.
This tour is a definite must on any traveler's to-do list. Make sure to reach out and book an experience that you will never forget. Click here and book on time.
INFORMATION ABOUT TOUR
Included in price:
Licensed English-speaking tour guide - skipper
Free Wi-Fi access
Water
Insurance
All Fees and Taxes
Fuel
Not included in the price:
Soft drinks, alcohol - Beer or domestic brand (rakija) can be purchased upon request before departure
Facultative trips
Entry ticket for Our Lady of the Rocks Museum
Boat equipment:
Snorkeling masks
Life jackets in all sizes are available
Safety & emergency equipment
Boat shade (sun protection)
Music (connections: USB, AUX, and Bluetooth)
Swimming stairs
Raincoats
12V socket
Not allowed on the boat:
Travel baggage
Pets
Smoking
Recommended to bring:
Booking confirmation (printed or on mobile)
Passport or ID card (with picture)
Sunglasses
Sunhat
Camera
Sunscreen (we suggest SPF 30 or more)
Comfortable shoes or sandals
Swimwear and towel
Jacket for chilly weather
Important notes:
It is forbidden to swim at Our Lady of the Rocks and to use a drone
If you want to go inside the church you must have a T-shirt (it is not allowed the enter in swimwear)
During April, May, September, and October, the church of Our Lady of the Rocks and the museum are open until 5 pm. In June until 6 pm, and in July and August until 7 pm
We recommend you dress warmer during the spring and autumn months because it can be chilly
TOUR PLAN
Tours rotate every 3 hours anew, starting from 9 am to 9 pm.
MONTENEGRO SUBMARINE AND SPEEDBOAT TOUR LOCATION
It is very easy to find our location and starting point. Whether you are coming from the Old Town of Kotor or from Cruise Ship Terminal, here is a photo to help you find it OR you may check it via Google Maps here.
The tour Bay of Kotor and Blue Cave Adventure starts at the city park near Kotor's port, 200 m from Old town's main gate (red pin).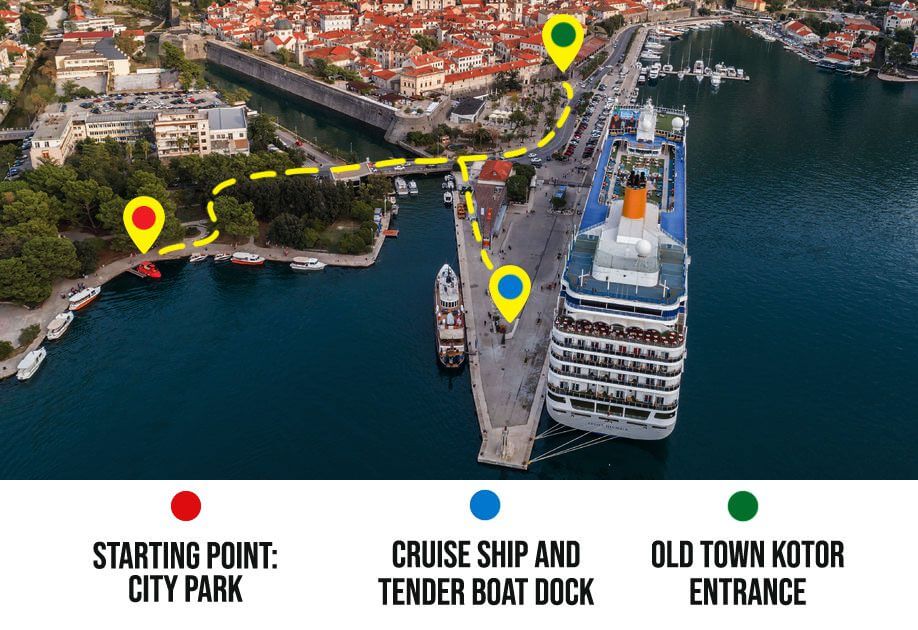 You will see a big red sign MONTENEGRO SUBMARINE & SPEEDBOAT TOUR.
If you have any questions, you may contact us via WhatsApp, Viber, or Telegram at +382 67 711 999, +382 69 576 355, and +382 67 811 927 or via chat on our site.
You can also write to us at [email protected]
IMPORTANT QUESTIONS AND ANSWERS
When is the first and the last departure from Kotor to the Blue Cave Montenegro?
Bay of Kotor and the Blue Cave (Blue Grotto) tour starts at 9 am & the last departure is at 6 pm.
Where is the exact location of departure of the Bay of Kotor boat tour
The departure is from Kotor City Park. You can check here on Google Maps it is a few minutes from Cruise Ship Terminal (in case you are a cruise passenger) & if you are coming from the Old Town of Kotor.
Is there a hotel pickup?
Yes, there is by speedboat, for the guests within Kotor bay & we are one of the rear companies who do hotel pick up for their guests. We are taking guests via our boats along the shore. Usually, guests tell us where they are staying and nearby there is a pontoon where they can stop and board in.
What is included in the Bay of Kotor & Blue Cave tour?
Licensed English-speaking skipper – he will be your guide on an excursion
Hotel pickup (if previously agreed with our company) by boat
Free Wi-Fi access
Coldwater
Snorkeling masks
Life jackets (available in all sizes – adults, children, and babies)
Safety & emergency equipment
Boat shade (sun protection)
Sundeck cushions
Music player – Bluetooth, AUX, and USB connection
Swimming stairs
Raincoats
Plugs for mobile phone charging - 12V
Are we stopping at Island Mamula in Kotor Bay?
There is an organized stop near the island Mamula where you can take pictures of the island and hear its legends, but guests can't go on the actual island, because it's private property.
Do you have life jackets available for children to wear onboard?
Yes, we do. We have jackets of all sizes (special ones designed for babies and special ones for children 3-10 years).
Can you please list all departure times of all your tours and their duration?
The departures to the Blue Cave are organized every 3 hours in the period from 09:00 am to 09:00 pm.
In case the weather is bad, am I getting a refund?
Of course, we can't control the weather and thus we will refund you or if you agree, we can re-book your Blue Cave tour for the next day or when the weather is better.
If I am seasick, would you recommend I go on a tour with you?
In this case, we would recommend this shorter Perast and Our Lady of the Rocks group tour that lasts just 2 hours or Kotor underwater experience 1h via semi-submarine.
What are all pick-up locations?
Pontins near the coast depending on where your accommodation is in the Bay of Kotor.
What should I be wearing?
Regular summer clothes but also bring your jacket since in the open sea it could be cold.
What are your boat sizes for how big groups are?
A minimum capacity of a boat is 2 and the maximum is 25. But at the same time, we can serve groups of 150 passengers.
Can I go in a swimsuit?
You can go in a swimsuit to the Blue Cave and all other locations EXCEPT on Our Lady of the Rocks, which is a church and museum.
What is the cancellation policy?
Up to 24 hours no charge, 24h hours - charge 100%. In case your cruise ship changes destination or perhaps it is late for some reason - we will do a refund.
Is it allowed to swim in the Blue Cave?
Yes, it is. We only need to be careful about weather conditions. Because, if it is heavy rain or big waves, in this case, we are not going to Blue Cave at all - Safety is our top priority.
Can you pick us up at the Kotor Cruise Ship Terminal?
Unfortunately not, but our location is a few minutes from there. Look at the map.
Do I get wet during the tour?
Only if it is raining or you decide to go for a swim in the Blue Cave :)
What is the age limit for kids and adults?
There is no age limit, you can take your baby in your lap and if you are an elderly person, you can travel with us as well.
Do you have cold water on board?
Yes, we do.
Are there any hidden costs on your speedboat tours?
There are no hidden costs, everything is included in the price and it is transparently stated.
I am using a wheelchair, can I travel with you?
Yes, you can if you have foldable chairs, otherwise we do not have proper storage for them in the boats.
Is it allowed to take pets?
Unfortunately not, pets are allowed only if you are taking some of our private tours.
Are there waves?
Yes, only on the open sea, but don't worry - It is perfectly safe.
Do you have a fridge?
Yes, we do.
Can I charge my phone on your speed boats?
Yes, you can, we have multiple charging plugs - 12V for mobile phones.
Do you have diving equipment?
No, we don't have diving equipment but we have snorkeling masks that are ideal for exploring the wonderful Blue Cave in Montenegro.
If I book via TripAdvisor or GetYourGuide but get into a traffic jam, what will happen?
No problem, we will refund you in this case as well, just reach out to us, please.
Do you have showers on the speed boats?
Yes we do, but they are being used only on private tours on Don Amon VIP and Excursion 36
Can I rent your entire speedboat for a private tour?
Yes, we offer this option as well but our skipper is mandatory and is included in the price.
Can I pay you via wire transfer?
Yes you can, but it must be done 100% of the payment 10 days before your tour
Do you accept credit and debit card payments?
Yes, we do, you can pay via our Montenegro Submarine website. You can make a payment via Master, Visa, or American Express card.
Do you accept PayPal?
Yes, we accept it.
Video