Your own submarine journey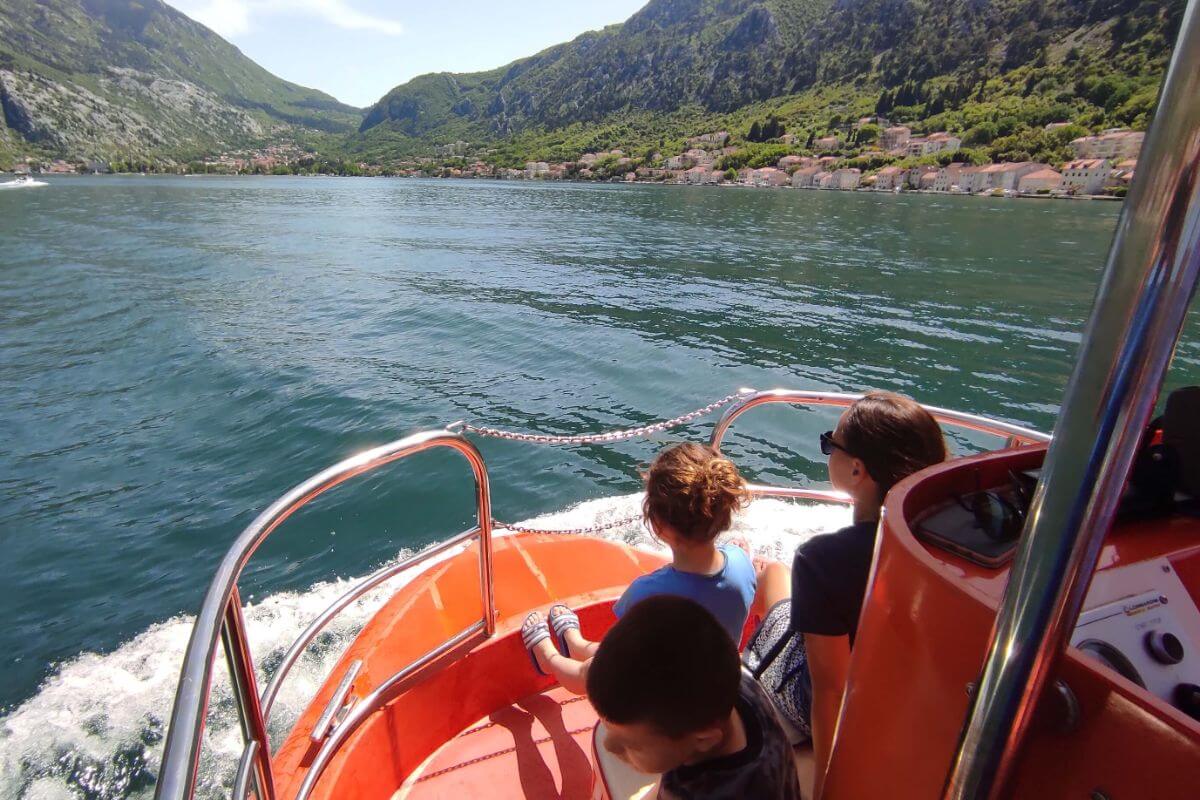 TOUR DESCRIPTION
Highlights
Do you have a specific list of places you'd like to see in Kotor Bay? Of course, you have. After all, Boka Bay is rich in antiquity, attractions, and well-preserved medieval towns, and further embellished by a natural environment that so many tourists want to discover while in Montenegro.
The bay, however, is famous for its twisting roads, isolated beaches, and many inaccessible viewpoints. After identifying this mobility issue, our team devised a solution that allows guests to strike through their complete to-do list for Boka Bay by cruising the gulf with our submarine.
How we do this by helping you draft a great action plan that will comprise all destinations you'd like to visit and see. Whether your preferences include swimming and sunbathing on attractive beaches, or dining in restaurants close to the sea, we have you covered.
Our offer provides the possibility of boat rentals (semi-submarine Kotor) for private cruises that include swimming stops, visits to Perast's Old Town, island Our Lady of the Rock, Tivat, Herceg Novi, island Mamula, and beach Žanjice, as well as all-day trips.
Your hosts are licensed and knowledgeable skippers who can further inform you about the places you'll visit, as well as make sure that your ride is a safe and pleasurable one.
This tour is a definite must on any traveler's to-do list. Make sure to reach out and book an experience that you will never forget. Click here and book on time.
INFORMATION ABOUT TOUR
Included in price:
Licensed English-speaking skipper (also your guide on the tour)
Free Wi-Fi access
Water
Insurance
All Fees and Taxes
Fuel
Not included in the price:
Alcohol - Beer or domestic brand (rakija) and soft drinks can be purchased upon request before departure
Boat equipment:
Life jackets (available in all sizes): babies, children, and adults
Safety & emergency equipment
Boat shade (sun protection)
Music Connection (USB, AUX and Bluetooth)
Raincoats
12V socket
4 safety glasses on both sides
AC in underwater cabin
Capacity: 14 passengers (with skipper)
Not allowed on the boat:
Big travel pieces of baggage
Smoking
Recommended to bring:
Booking confirmation (printed or on mobile)
Passport or Government-issued ID
Sunglasses
Sunhat
Camera
Sunscreen (we suggest SPF 30)
Comfortable shoes or sandals
Swimwear and towel
Jacket for chilly weather
Important notes:
You can bring your pets and drinks
MONTENEGRO SUBMARINE AND SPEEDBOAT TOUR LOCATION
It is very easy to find our location and starting point. Whether you are coming from the Old Town of Kotor or from Cruise Ship Terminal, here is a photo to help you find it OR you may check it via Google Maps here.
The tour Bay of Kotor and Blue Cave Adventure starts at the city park near Kotor's port, 200 m from Old town's main gate (red pin).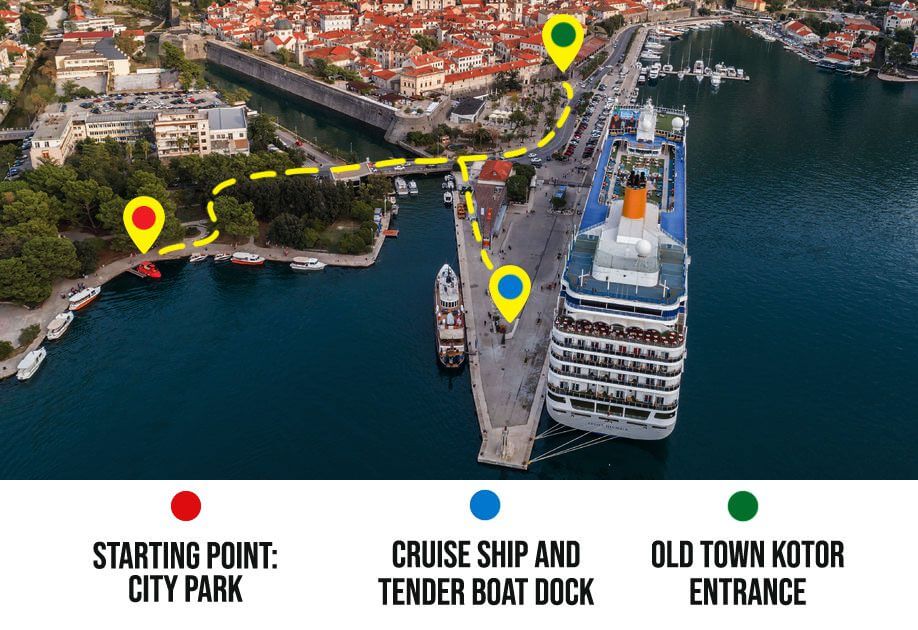 You will see a big red sign MONTENEGRO SUBMARINE & SPEEDBOAT TOUR.
If you have any questions, you may contact us via WhatsApp, Viber, or Telegram at +382 67 711 999, +382 69 576 355, and +382 67 811 927 or via chat on our site.
You can also write to us at [email protected]
IMPORTANT QUESTIONS AND ANSWERS
When is the first and the last departure of the private Kotor semi-submarine tour?
Since this is a private tour, the departure time is up to you and the availability of the submarine.
Where is the departure of the semi-submarine tour from Kotor?
The semi-submarine departure is organized from Kotor City Park. It is located a few minutes from the Kotor Old Town and the Kotor Cruise Ship Terminal. Check directions on Google Maps.
Is there a hotel pickup?
Sadly, not. The semi-submarine can't reach the points so close to the shore.
What is included in the semi-submarine Kotor Bay tour?
Licensed English-speaking skipper and your tour guide
Free Wi-Fi access
Coldwater
Life jackets (available in all sizes: adults, children, and babies)
Safety & emergency equipment
Boat shade (sun protection)
Music: USB, AUX, and Bluetooth connections
Raincoats
Is there an organized stop at Island Mamula in Boka Bay?
As this is a private tour if you want we can organize a stop near the island, so you can take pictures while listening to the interesting legends of Mamula.
Do you have life jackets for children onboard?
Yes, life jackets of all sizes are provided (a special one for children 3-10 years, and a special one for babies 0-3).
Will I get a refund if the weather is bad on the day of the semi-submarine tour?
Yes - you can either choose to get a refund or re-book the tour for the next day when the weather is better.
Would you recommend this tour to me if I get seasick easily?
Yes, of course - this tour shouldn't cause you any hardship considering it's a smooth sail.
Is there a dress code? What should I wear?
You can wear whatever you feel comfortable in unless you plan to go to Our Lady of the Rocks, where you have to wear a cover-up.
Can I go in just a swimsuit?
Yes, but we recommend you take a cover-up in case you get cold in the semi-submarine.
What is your cancellation policy?
You can cancel for up to 24 hours at no charge.
Can you pick us up at the Kotor Cruise Ship Terminal?
Sadly no, we can't access the terminal with a semi-submarine. Luckily, our location is only a few minutes by foot away from the Kotor Cruise Ship Terminal. Check the location here.
Will I get wet?
No. You can only get wet if you decide to swim on one of Boka Bay's beaches.
Is there an age limitation?
We did not put up an age limit. Both small children and the elderly can join the tour.
Do you have drinking water on board?
Yes, we do.
Is there a hidden cost?
There are no hidden costs. Everything that is included or not included is transparently stated on the website in the part More Info.
I am using a wheelchair, can I travel with you?
Only if the wheelchair is foldable.
Is it allowed to take pets?
Yes, since the tour is private.
Do you have a fridge?
No
Can I charge my phone on the Montenegro semi-submarine?
Yes, there is a charging station - 12V.
Do you have diving equipment?
Unfortunately, we are not equipped with diving equipment.
Is there a minimum number of passengers on this Kotor Bay semi-submarine tour?
No, the number of passengers isn't limited.
I booked with TripAdvisor but got stuck in traffic. What is going to be?
This is not a problem, you can get a refund or reschedule for another day.
Can I pay with a wire transfer?
Yes, you can - our conditions are that the payment must be 100% completed 10 days before your tour.
Will you accept a credit card and debit payment?
Yes. You can pay on our website via Master, Visa, and American Express cards.
Do you accept PayPal?
Yes.
Video