Organic & Hedonistic Kotor Bay Discovery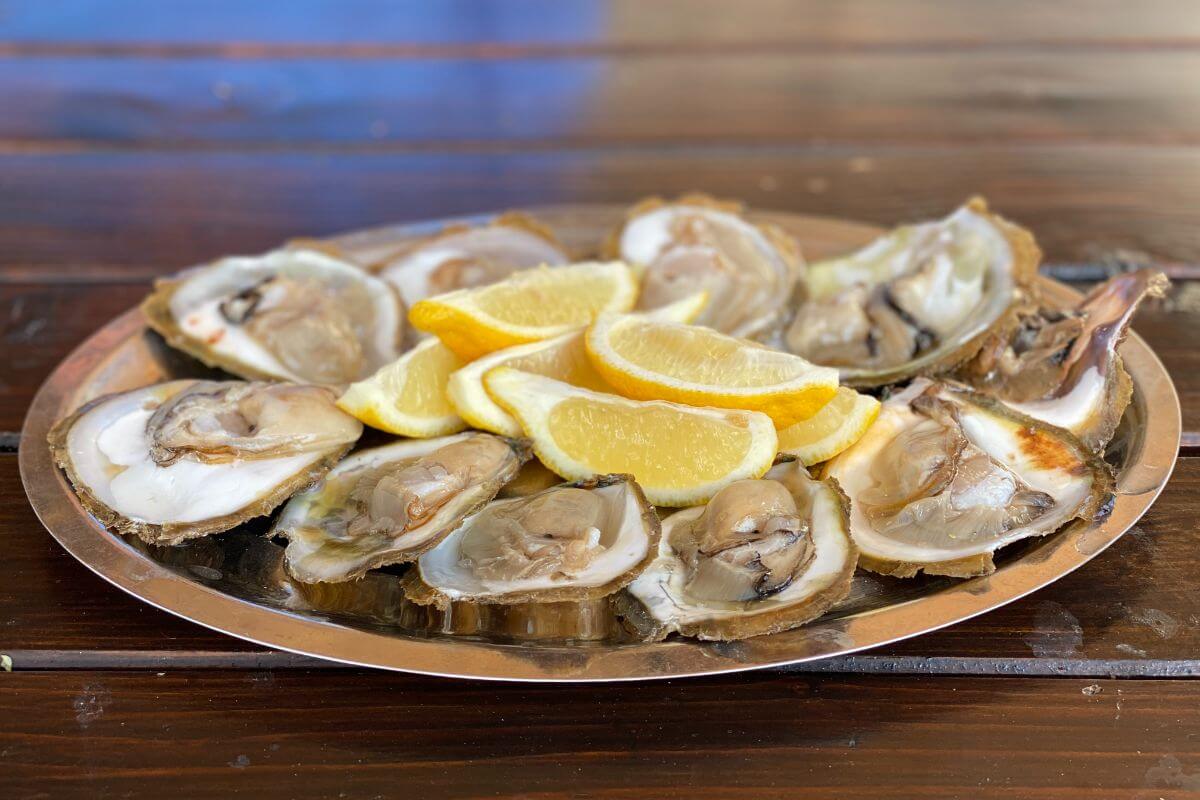 TOUR DESCRIPTION
Highlights
Feel a unique and unrepeatable gastronomic experience. After an exciting cruise through the Bay of Kotor and visiting the island Our Lady of the Rocks, you will enjoy the freshest and completely organic seafood in a small family mussel farm on Boka shore. Indulge in the charms of the Adriatic in an authentic Mediterranean ambiance, and remember these wonderful memories for a long time.
Details of the gastronomic tour Organic & Hedonistic Kotor Bay Discovery
Cruise through the Bay of Kotor and panoramic sightseeing, 20 minutes
Visit the island and the church Our Lady of the Rocks, 20 minutes
Lunch at a family mussel farm by the sea, 1 hour
In addition to a panoramic tour of the Old Town of Kotor, small fishing villages, and Perast, a town with a long and rich maritime tradition, we will visit a real little gem of the Montenegrin coast. We left the best for last. Lunch made from the most delicious organic products with a glass of homemade wine and a view of the bay.
The price of the tour - besides visiting Our Lady of the Rocks, includes lunch (portion of mussels and 1 drink of your choice per person).
Description of private boat tour Organic & Hedonistic Kotor Bay Discovery
Departure is from our pier in City Park, just a few hundred meters from the main entrance to the Old Town of Kotor and the Cruise Ship Terminal. After looking at the walls of the fortress that rise high above the city and the ancient Kotor buildings, we pass by small coastal fishing villages Dobrota, Muo, Prcanj, and Stoliv.
Our first stop is on the charming little island of Our Lady of the Rocks, opposite the Old Town of Perast, which is on the UNESCO World Heritage List. Numerous stories and legends are associated with Our Lady of the Rocks and the church of the same name. The most interesting of them will be gladly conveyed to you by the skippers and curators of the museum.
Our final destination is a small family farm on the coast with mussels for which it is famous. There you can enjoy wholly homemade and organic products and an authentic ambiance. While the farm owner takes the shells out of the sea and cleans the fresh fish, his wife will prepare delicious food right before you.
Besides mussels, there are also oysters, shrimp, fish, vegetables, brandy, and wine on the menu. Most importantly, all products are absolutely homemade and completely organic. Just couldn't be better than that!
If you are a vegetarian, vegan, or allergic to something, don't worry. The cook will prepare a wonderful meal specially adapted for you.
This tour is a definite must on any traveler's to-do list. Make sure to reach out and book an experience that you will never forget. Click here and book on time.
INFORMATION ABOUT TOUR
Included in price:
Lunch in the restaurant (portion of mussels and 1 drink of your choice per person)
Free Wi-Fi access
Fuel
Water
Insurance
All Fees and Taxes
Licensed skipper and guide (English-speaking)
Not included in the price:
Soft drinks, beer, or domestic brands (rakija) can be purchased upon request before departure
Boat equipment:
Life jackets (available in all sizes): babies, children, and adults
Snorkeling masks
Safety & emergency equipment
Sun protection (boat shade)
Sundeck cushions
Music (USB, AUX and Bluetooth)
Swimming stairs
Raincoats
12V socket
Soft and comfortable pillows to sit and enjoy
Not allowed on the boat:
Large travel bags
Smoking
Recommended to bring:
Swimwear and towel
Booking confirmation (printed or in mobile form)
Passport or Government-issued ID with a photo
Sunglasses
Sunhat
Camera
Sunscreen (we suggest SPF 30)
Comfortable shoes or sandals
Jacket for chilly weather
Important notes:
If you want to go inside the church you must have a t-shirt (it is not allowed the enter in swimwear)
It is forbidden to use drones and to swim at Our Lady of the Rocks
During April, May, September, and October, the church of Our Lady of the Rocks and the museum are open until 5 pm. In June until 6 pm, and in July and August until 7 pm
We recommend you dress warmer during the spring and autumn months because it can be chilly
Pets are allowed on board
TOUR PLAN
You decide and make a travel plan. Our recommendation is:
Panoramic sightseeing of the Our Lady of the Rocks, 20 minutes
Organic lunch at a restaurant by the sea, 1 hour
MONTENEGRO SUBMARINE AND SPEEDBOAT TOUR LOCATION
It is very easy to find our location and starting point. Whether you are coming from the Old Town of Kotor or from Cruise Ship Terminal, here is a photo to help you find it OR you may check it via Google Maps here.
The tour Bay of Kotor and Blue Cave Adventure starts at the city park near Kotor's port, 200 m from Old town's main gate (red pin).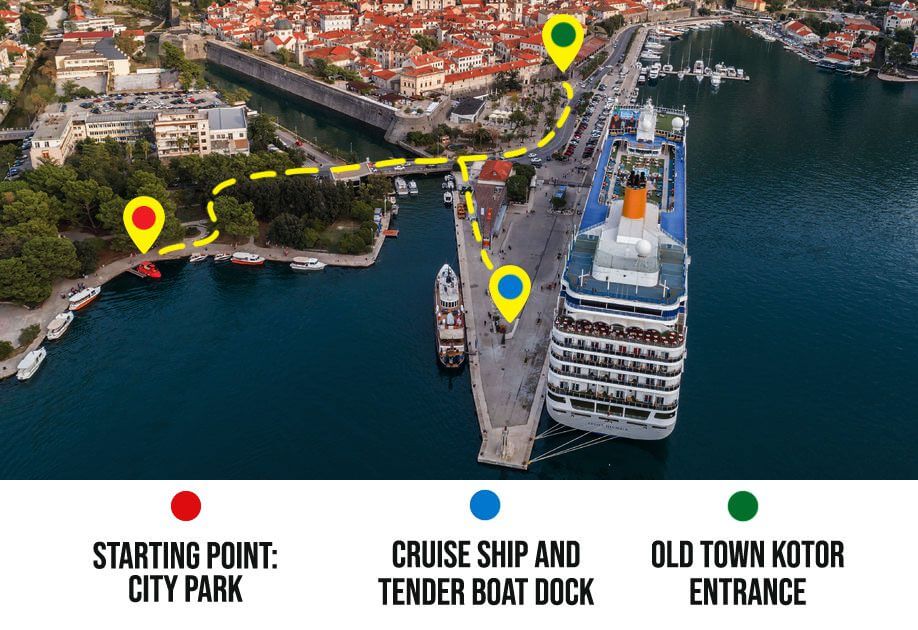 You will see a big red sign MONTENEGRO SUBMARINE & SPEEDBOAT TOUR.
If you have any questions, you may contact us via WhatsApp, Viber, or Telegram at +382 67 711 999, +382 69 576 355, and +382 67 811 927 or via chat on our site.
IMPORTANT QUESTIONS AND ANSWERS
When is the first and when is last departure for the tour?
This is a private tour, which means you decide on your own departure time.
Where do you start the tour from Kotor?
The starting point is the City Park of Kotor, but there is a possibility, if you want, to pick you up by speedboat if you are located within the Bay of Kotor. In other words, to get to the nearest bridge where the boat can dock.
What benefits are included in the price of the private tour Organic & Hedonistic Kotor Bay Discovery?
Visit and tour the island of Our Lady of the Rocks
Organic lunch in a family restaurant by the sea (a portion of mussels and 1 glass of homemade wine per person)
Boat awning for sun protection
Free and fast WIFI
Licensed skipper with knowledge of English - your tour guide
Pick-up of passengers by speedboat (if previously agreed with us)
Ladders for bathing Life jackets (available in all sizes)
First aid equipment
Drinking water
Surface diving masks (without respirator)
Seat cushions
Music
Raincoats
Are we coming to the island of Our Lady of the Rocks?
Yes. The itinerary includes a visit and a tour of the island and the church of the same name.
Do you have anything for vegetarians on offer?
Of course. If you are a vegetarian or vegan, you will get a specially adapted meal for you. When booking, be sure to indicate in the comments that you want a vegetarian or vegan meal.
Are passengers provided with life jackets?
Yes, life jackets are available for both children and adults on board. Of course, we have special ones for babies as well.
In case of bad weather, can I get a refund?
Yes, we will not sail if the weather conditions are bad, because our priority is passenger safety. You can get a refund or move the tour to another date.
Do you recommend I go on this tour if I am prone to seasickness?
This is a tour that lasts 2 hours, which is relatively short, so we think you will be comfortable coming with us.
What should I wear for this tour?
We do not have a dress code for the tour, but we must mention that when visiting Our Lady of the Rocks, it is necessary to bring a blouse or a T-shirt.
What boat sizes are available for private tours and how many people can they accommodate?
We have several different types of boats of different capacities - you can rent a boat for 10, 13, 15, and 25 people. Click on the link above and choose the speedboat that suits you best.
Can I go on a private tour of the Bay of Kotor in a swimsuit?
You can go in a bathing suit to all locations, except to the church of Our Lady of the Rocks.
Can I cancel the private tour Organic and Hedonistic Kotor Bay Discovery?
You can cancel no later than one day before the start of the tour free of charge. Anything later than that will be charged 100% of the total amount.
Exceptions are if you are a passenger on a cruise ship and you are late because the ship has changed its route.
Is swimming allowed near the restaurant?
Absolutely. Feel free to swim and refresh in the sea.
Can you pick me up at the cruise terminal?
Unfortunately, no, but fortunately, our location is only a few hundred meters away from the terminal. Click here to see the exact location.
Can I get wet during the tour?
Only if you decide to swim or if it rains. Although we also have raincoats.
Is there an age limit?
No. Feel free to take your baby and children on this tour. Older passengers can also board safely.
Is drinking water provided on board?
Yes.
Are there any hidden costs?
No additional costs! Everything that is or is not included in the price is clearly indicated on our website in the Details section.
Can people in wheelchairs board a private boat tour?
The only condition is that the wheelchair can be foldable. Otherwise, they may not be delayed due to the size.
Can I take a Persian cat on a private tour of Organic & Hedonistic Kotor Bay Discovery?
Yes, you can take your kitty on this tour.
Is there a place where we can charge our cell phones?
Yes, we have multiple outlets, just bring your charger.
Is diving equipment provided?
Unfortunately not, but we have surface diving masks. They are not accompanied by respirators.
Is there a minimum number of passengers?
There is no minimum number of passengers on our private tours.
I booked the tour on TripAdvisor, but I got stuck in a traffic jam. Can I get a refund or postpone it for another day?
Of course, refunding and moving the date is not a problem.
Is there a shower on board?
Yes if you are sailing with Don Amon or Excursion 36.
Can I pay by bank transfer or eBanking?
Yes - the only request is that the payment is made 10 days before the tour.
Can I pay by credit card?
Yes. You can pay on our site.
Can I pay via PayPal?
Yes.
Video