Kotor Panorama And Underwater experience - 1h
19 reviews
Tours are every 1 hour in the period from 09:00 am to 08:00 pm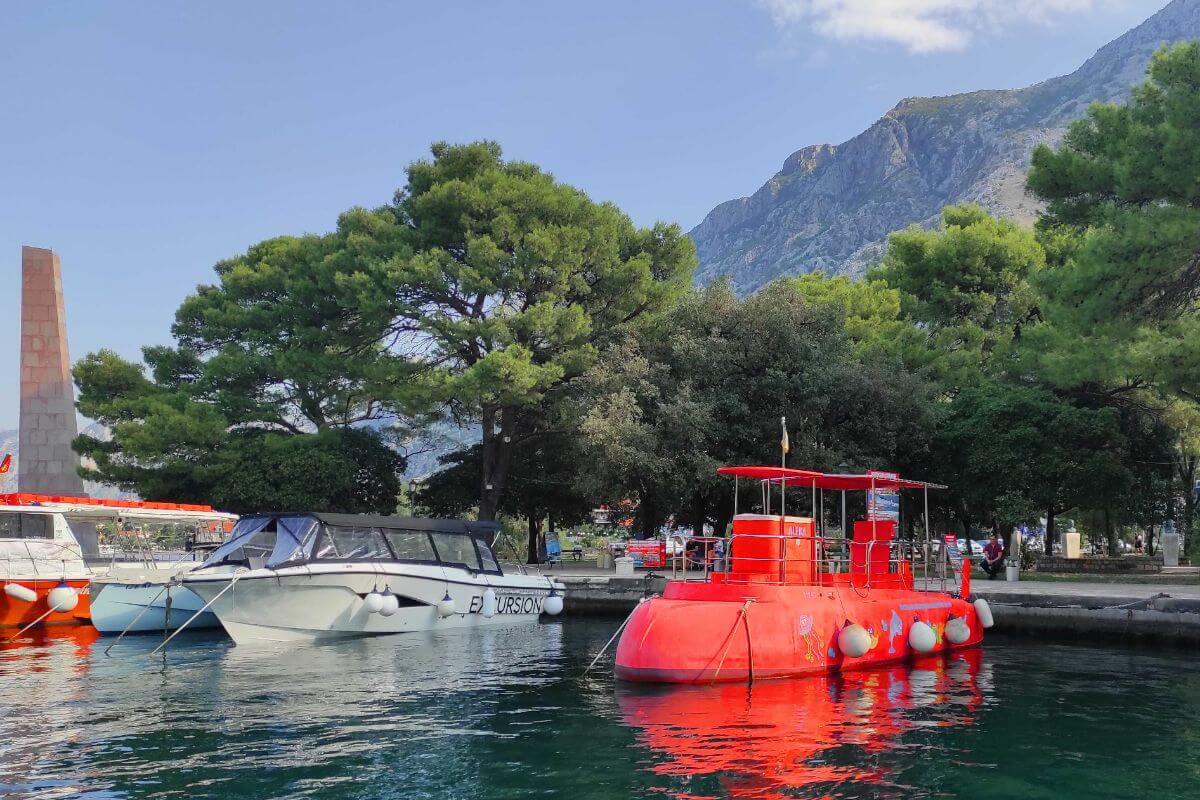 TOUR DESCRIPTION
Highlights
Dive deeper and discover various shades of blue underseas with our Semi Submarine Tour which guarantees an unforgettable experience with panoramic views of the Bay of Kotor and the Old Town of Kotor, right from the deck of a specially-outfitted marine vessel.
Best of both worlds
Thanks to our well-equipped submarine, our tour features two options: discovering the environment of Boka Bay, as well as the Adriatic underwater life in the gulf.
It all starts at the city park where we welcome our guests for the pleasure that's lying ahead. During the along-the-bay cruise, you will get to see small coastal fishermen's villages like Muo, Prčanj, and Dobrota, authentic medieval churches, awe-inspiring palaces dating back as far as the 17th century, and many more historical and cultural sites.
The enjoyment of the mesmerizing beauty called Boka Bay is even more apprehensible through the view from our cabin, where guests can submerge in an area that shows the maritime life of the Boka Bay region. This environment makes enjoying a cold drink while scouting for various fish species with your eyes possible, and is just one among many things you can do during summer days – where water is so translucent, you'll feel like a fish in a tank yourself!
Don't waste your time overthinking it. It's a journey you won't forget.
This tour is a definite must on any traveler's to-do list. Make sure to reach out and book an experience that you will never forget. Click here and book on time.
INFORMATION ABOUT TOUR
Included in price:
Licensed English-speaking skipper
Skipper is also your guide on the tour
Free fast Wi-Fi access
Water
Insurance
All Fees and Taxes
Fuel
Not included in the price:
Alcohol and soft drinks can be purchased upon request before departure. There is no possibility to buy it on semi-submarine
Boat equipment:
Life jackets (available in all sizes)
Safety & emergency equipment
Boat shade (sun protection)
Music (USB, AUX and Bluetooth)
Raincoats
4 safety glasses on both sides
AC in underwater cabin
Not allowed on the boat:
Travel baggage
Pets
Smoking
Recommended to bring:
Printed booking confirmation or on mobile phone
Passport or Government-issued ID
Sunglasses
Sunhat
Camera
Sunscreen (we suggest SPF 30)
Comfortable footwear
Jacket for chilly weather
TOUR PLAN
Tours rotate every 1 hour, starting from 9 am to 8 pm.
panoramic sightseeing of fishermen's villages and churches, the Old Town of Kotor (from the deck - 40 minutes)
underwater exploration (from the cabin - 20 minutes)
MONTENEGRO SUBMARINE AND SPEEDBOAT TOUR LOCATION
It is very easy to find our location and starting point. Whether you are coming from the Old Town of Kotor or from Cruise Ship Terminal, here is a photo to help you find it OR you may check it via Google Maps here.
The tour Bay of Kotor and Blue Cave Adventure starts at the city park near Kotor's port, 200 m from Old town's main gate (red pin).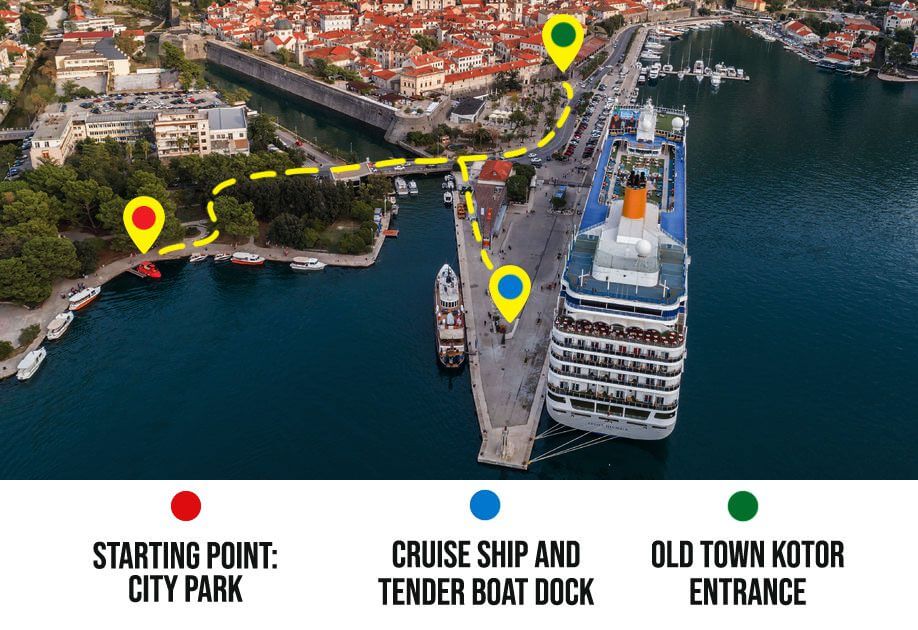 You will see a big red sign MONTENEGRO SUBMARINE & SPEEDBOAT TOUR.
If you have any questions, you may contact us via WhatsApp, Viber, or Telegram at +382 67 711 999, +382 69 576 355, and +382 67 811 927 or via chat on our site.
You can also write to us at [email protected]
IMPORTANT QUESTIONS AND ANSWERS
When is the first and last departure from Kotor for an Underwater experience tour?
The first departure is at 9 am, and the last one is at 7 pm. Tours rotate every 1 hour, starting from 9 am to 8 pm.
Where is the semi-submarine tour departure from?
The departure is in Kotor, and it is organized from Kotor City Park, which is located a few minutes away from Kotor Old Town and the Cruise Ship Terminal. Click here and check the location on Google Maps.
Is there a hotel pickup?
No, hotel pick up is not possible for semi-submarine tours.
What is included in the group Kotor Bay submarine tour?
Licensed English-speaking skipper and guide on the tour
Free Wi-Fi access
Water
Life jackets (available in all sizes): adults, children, and babies
Safety & emergency equipment
Boat shade (sun protection)
Music player – AUX and USB connections, Bluetooth
Raincoats
Is stopping at Island Mamula planned for this semi-submarine tour from Kotor?
No, this route does not include a stop at the island of Mamula. If you want to visit this island please book our Blue cave tour 3h.
Are there children's life jackets in the semi-submarine?
Of course, life jackets for both children and adults are provided. Just send us information on how old the child is. We also have a special one for the babies.
Will I get a refund if the tour gets canceled because of bad weather conditions?
Yes, of course, you can either choose to refund the money or reschedule the semi-submarine tour of Kotor Bay for another day.
Can I get seasick on this tour?
You shouldn't get seasick from this tour - it is a very smooth sail so you should be alright.
What should I wear?
There is no particular dress code - you can wear whatever you want but recommend taking a cover-up in case you get cold in the semi-submarine.
Is it allowed to wear a swimsuit on board?
Yes, it is.
Will I get a refund if I cancel the private or group Kotor semi-submarine tour?
You can cancel for up to 24 hours for free.
Can a pick-up be organized at the Kotor Cruise Ship Terminal?
No, our semi-submarine is not able to access the Kotor Cruise Ship Terminal. But, the start point is a few minutes from the Terminal so you can come on foot.
Will my clothes get wet on this tour?
No, you can only get wet if you decide you want to swim. But, the tour does not include swimming time.
What's the max-min age limit for this semi-submarine Kotor Bay tour?
We do not have an age limit, both kids and the elderly can enjoy the tour.
Are there any hidden costs not included in the price?
No, everything that is included and not included is stated on our page - more info part.
I am using a wheelchair, can I travel with you?
Yes, under the condition that the wheelchair must be foldable, so we can fit it in the storage compartment.
Is it allowed to take pets?
No, pets are not allowed on the Kotor Panorama and Underwater experience semi-submarine tour.
Can I charge my phone on the submarine?
Yes, you can charge your phone. We have 12V plugs.
Is there a maximum number of people allowed on this Kotor Bay semi-submarine tour?
The maximum number of people allowed on our semi-submarine is 14 with skippers.
If I book via TripAdvisor or GetYourGuide but I get stuck in traffic - what will happen?
You can refund or reschedule for another day.
Is the wire transfer payment method available?
Yes, but the payment must be 100% completed 10 days before your tour.
Will you accept credit card and debit card payments?
Yes - Visa, Master, and Amex.
Do you accept PayPal payments?
Yes.
Video