Our Lady of the Rocks and Perast - 1.5h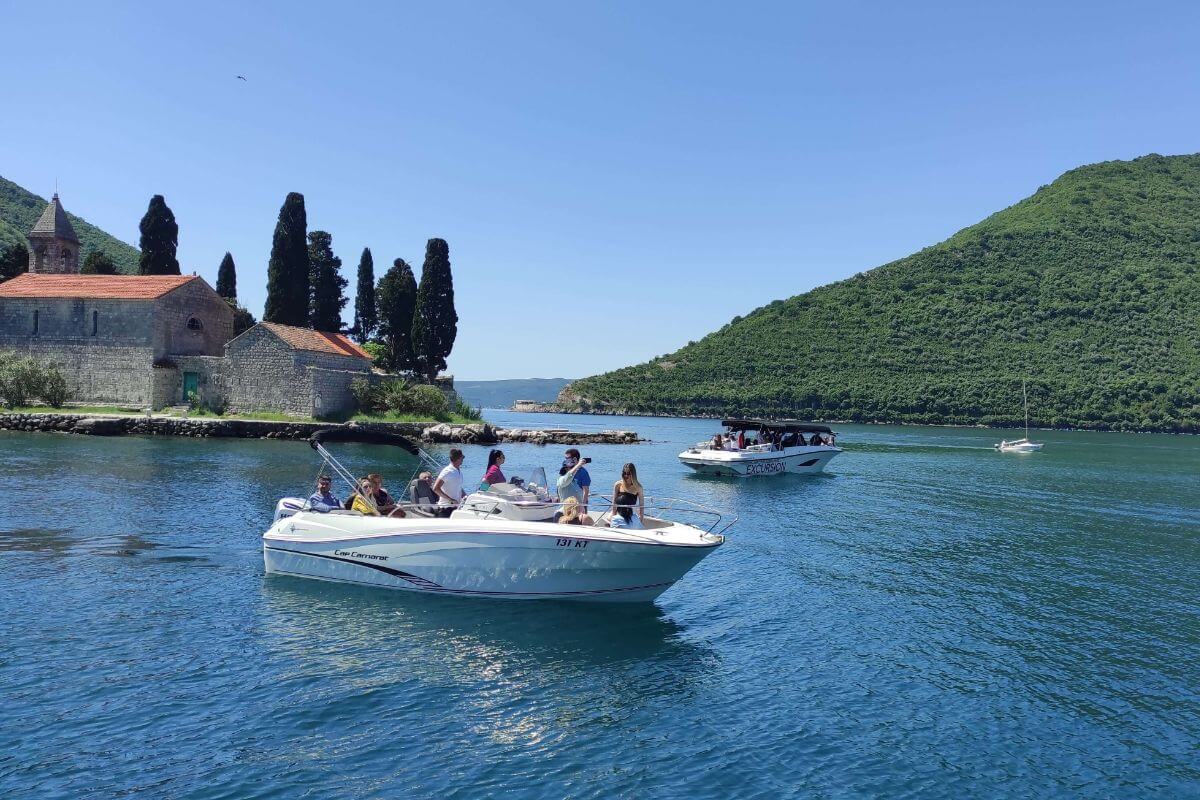 TOUR DESCRIPTION
Highlights
We welcome avid sailors and explorers of Montenegrin beauties to a cruising tour that allows you to run away from crowded inshore places; where you can see rich biological and cultural diversity from afar and strengthen your bond with Mother Nature.
Feasting your eyes in the Boka Bay
The tour starts at the seaport of Kotor, where a friendly skipper will await travelers on board. As soon as we rev the engine and leave, visitors will be able to discover the hidden gems of Boka Bay; authentic fishing grounds and villages, antique Romanesque churches, byzantine palaces, and more historical monuments.
Out of many panoramic views, the first one is directly aimed at the islet Our Lady of the Rocks - a site enriched with a mythical legend that goes back more than five centuries. Namely, this is an artificial island that had been expanded by seafarers who found the icon of Madonna and Child on a rock on the sea.
Feeling grateful for safe returns after long journeys, the sailors vowed to honor the Holy Mother and so, little by little and stone after stone, this place became an artificial island that harbors the Lady of the Rocks church. In here, visitors can listen to stories about the artifacts, and enjoy the many frescoes, paintings, motives, tapestries, and other items inside the chapel. Outside, guests can stop for a drink or buy souvenirs or ice cream from a store close by.
The next stop on our journey is Perast. A story of its own, this UNESCO heritage site housed once people from the Illyrian, Roman, and Christian periods. It enjoyed prosperity during Venetian rule, which can be seen by the architecture of the nine defensive towers, Baroque palaces dating from the 17th and 18th centuries, and distinctive Catholic churches. All in all, an amalgam of timeless buildings and is worth visiting when in Montenegro.
This tour is a definite must on any traveler's to-do list. Make sure to reach out and book an experience that you will never forget. Click here and book on time.
INFORMATION ABOUT TOUR
Included in price:
Free Wi-Fi access
Fuel
Water
Insurance
All Fees and Taxes
Licensed skipper and guide (English-speaking)
Not included in the price:
Soft drinks, beer, or domestic brands (rakija) can be purchased upon request before departure
Boat equipment:
Life jackets (available in all sizes): babies, children, and adults
Safety & emergency equipment
Sun protection (boat shade)
Sundeck cushions
Music (USB, AUX and Bluetooth)
Raincoats
12V socket
Soft and comfortable pillows to sit and enjoy
Not allowed on the boat
Large travel bags
Smoking
Recommended to bring:
Booking confirmation (printed or in mobile form)
Passport or Government-issued ID with a photo
Sunglasses
Sunhat
Camera
Sunscreen (we suggest SPF 30)
Comfortable shoes or sandals
Jacket for chilly weather
Important notes:
If you want to go inside the church you must have a t-shirt (it is not allowed the enter in swimwear)
It is forbidden to use drones and to swim at Our Lady of the Rocks
During April, May, September, and October, the church of Our Lady of the Rocks and the museum are open until 5 pm. In June until 6 pm, and in July and August until 7 pm
We recommend you dress warmer during the spring and autumn months because it can be chilly
Pets are allowed on board
TOUR PLAN
You decide and make a travel plan. Our recommendation is:
MONTENEGRO SUBMARINE AND SPEEDBOAT TOUR LOCATION
It is very easy to find our location and starting point. Whether you are coming from the Old Town of Kotor or from Cruise Ship Terminal, here is a photo to help you find it OR you may check it via Google Maps here.
The tour Bay of Kotor and Blue Cave Adventure starts at the city park near Kotor's port, 200 m from Old town's main gate (red pin).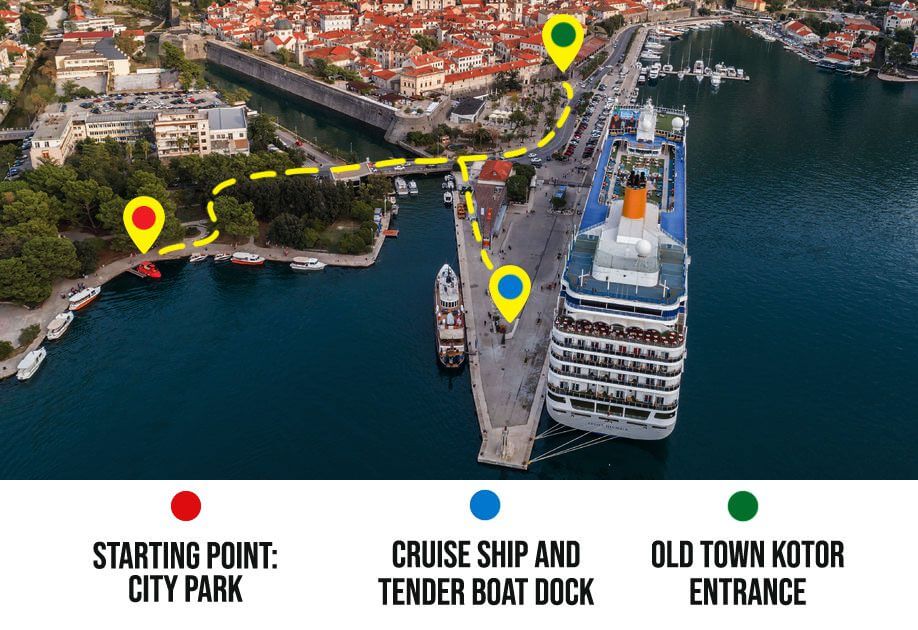 You will see a big red sign MONTENEGRO SUBMARINE & SPEEDBOAT TOUR.
If you have any questions, you may contact us via WhatsApp, Viber, or Telegram at +382 67 711 999, +382 69 576 355, and +382 67 811 927 or via chat on our site.
You can also write to us at [email protected]
IMPORTANT QUESTIONS AND ANSWERS
At what time is the first and last departure for the private Kotor Bay speed boat tour?
This is a private tour, which means that you decide on the time of the departure.
What is the starting (boarding) point of the Lady of the Rocks boat tour from Kotor?
The departure location is at Kotor City Park, but also, in agreement with the company, we can pick you up at your hotel, at the nearest pontoon where the speedboat can stop.
What benefits can be included in the price of the private Perast speed boat tour?
Boat shade (sun protection)
Free fast Wi-Fi access
Licensed English-speaking skipper and your tour guide
Speedboat hotel pickup (if previously agreed with our company)
Swimming stairs
Life jackets (available in all sizes): for babies, children, and adults
Safety & emergency equipment
Water
Plugs for mobile phone charging - 2V
Snorkeling masks
Sundeck cushions
Music player: USB, AUX, and Bluetooth connections
Raincoats
Are life jackets for the passengers provided?
Yes, life jackets for both kids and adults are available on the speed boat. Also, we have a special one for babies.
In case of bad weather conditions, can I get a refund?
Yes, we won't be sailing if the weather conditions are bad, because the safety of our passengers is our top priority. You can either get a refund or you can reschedule your private Kotor Bay speed boat tour for another day.
Should I go on this private Kotor Montenegro Lady of the Rocks and Perast tour if I get seasick easily?
This is a 1.5h tour, which is considered relatively short, so you should be feeling sick on the tour.
What should I wear on the private Montenegro Kotor Bay boat excursion?
We do not have a dress code for our Montenegro Kotor tour, but if you want to visit Our Lady of the Rocks Kotor, you will have to wear a cover-up, since it is a church museum.
What boat size is available for the private speedboat tour and how many people can it fit?
We have different boats - you can rent a speedboat in Kotor for up to 10, 13, 15, and 25 passengers.

Can I go on the private Kotor Bay & Perast speedboat tour in a swimsuit
You can go in a swimsuit freely to all locations that you choose EXCEPT to Our Lady of the Rocks church.
Can I cancel the private Kotor Bay boat tour?
You can cancel 1 day before the start of the tour for free. Anything later than that will be charged 100% of the price.
The exception is if you are a cruise passenger and the ship is late or it changes the route. Then it is free of charge.
Is swimming in the Montenegro Blue Cave allowed?
Unfortunately not, swimming in the Blue Cave is not part of this tour. But, if you want you can book a Blue Cave adventure 3h tour.
Can I be picked up with a speed boat at the Kotor cruise ship terminal?
Unfortunately not, but luckily, our boarding location is a short distance from the terminal. You can go on foot. See part of this page - Location - and there you will find Google maps directions or click here.
Can I get wet during this private Kotor boat tour?
Only if you decide to go for a swim or if it rains.
Is there an age limit?
There isn't an age limit. You can freely take a baby on this private Kotor Bay boat tour. Elderly passengers can also board safely.
Is there water for drinking on the speedboat?
Yes.
Are there hidden or additional costs?
There are no hidden costs. Everything included and everything not included is clearly stated on the website.
Can people in wheelchairs board the private speed boat tour in Kotor
The only condition is for the wheelchair to be foldable. Otherwise, it might not fit in the storage.
Can I take a pet on the private Montenegro Kotor Bay boat tour?
Yes, taking your pet on our private tours is allowed.
Is there a charging plug on the speedboat for phone charging?
Yes, there are multiple.
Is diving equipment provided?
Sadly not, but we do have equipment for snorkeling.
Is there a minimum passenger number?
There isn't a minimum number of passengers on our tours. At once we can serve up to 250 passengers.
I booked a private tour on TripAdvisor (GetYourGuide) but got into a traffic jam, can I get a refund or reschedule?
Of course, getting a refund or rescheduling isn't a problem.
Is there a shower on the speedboat?
Yes. There is a shower on Don Amon and Excursion 36 speedboats.
Can I pay with a wire transfer?
Yes - the only requirement is that the payment must be completely finished 10 days before your tour.
Can I pay with a credit card?
Yes. You can pay on our website via American Express, Master, or Visa card.
Can I pay with PayPal?
Yes.
Video