Boat up to 10 passengers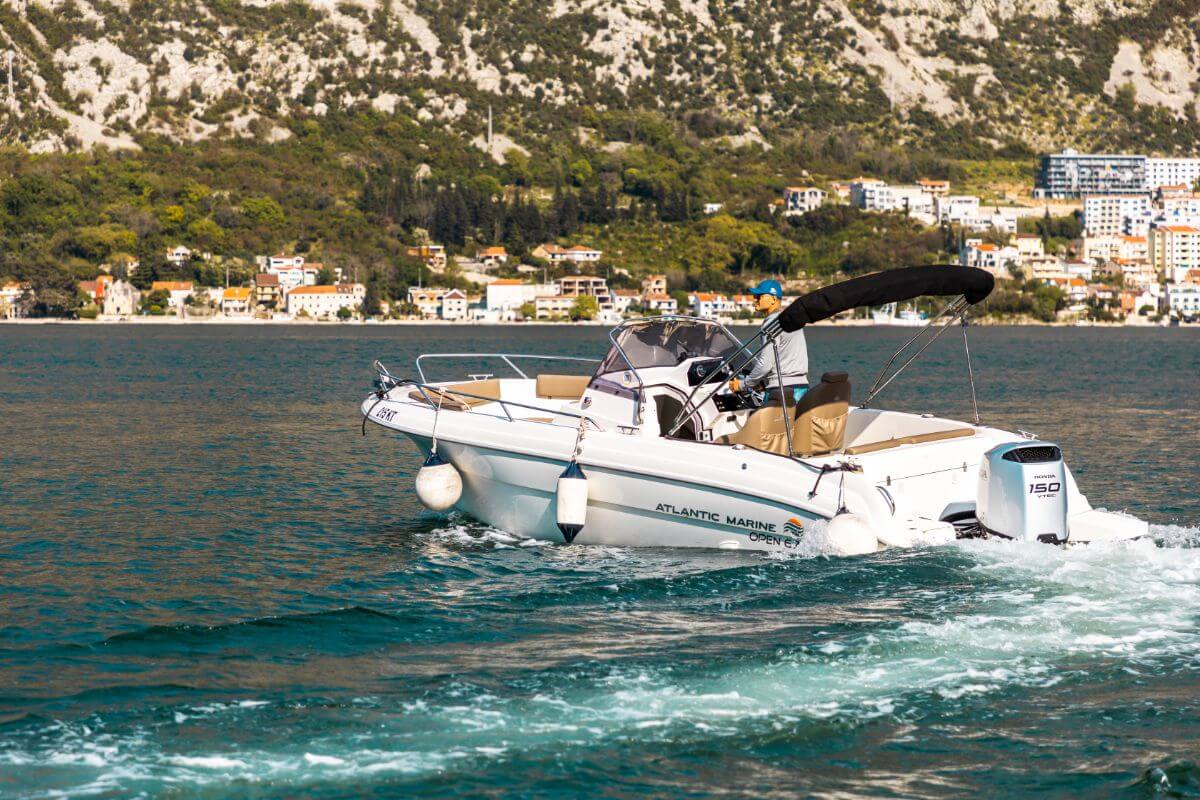 TOUR DESCRIPTION
Highlights
Wondering what to do in Kotor? We offer the possibility of organizing private tours and renting boats with skippers per hour.
Organizing private tours can include sightseeing and visits to destinations you prefer, swimming and sunbathing on attractive beaches, as well as organizing lunches in restaurants right by the sea.
OUR SPEEDBOATS
If your group has up to 10 members, we have speedboats:
The speedboats are made in 2020 & 2022 and have a 150 Honda engine. In part More info, on this page, you can find all the details!
If this offer suits you best you can book a speedboat here.
The price per hour for a group of up to 6 people is 70€. Each additional person pays 15€ per hour.
If you have more than 10 people in the group, you can rent a bigger speedboat. Just send us a request and we will send you the best deal!
In our offer, we also have speed boats for up to 13 passengers, Don Amon for 15 passengers, and Excursion 36 for 25 passengers. Just select the appropriate one and contact us!
This tour is a definite must on any traveler's to-do list. Make sure to reach out and book an experience that you will never forget. Click here and book on time.
INFORMATION ABOUT TOUR
Included in price:
Free Wi-Fi access
Fuel
Water
Insurance
All Fees and Taxes
Licensed skipper and guide (English-speaking)
Not included in the price:
Soft drinks, beer, or domestic brands (rakija) can be purchased upon request before departure
Boat equipment:
Life jackets (available in all sizes): babies, children, and adults
Snorkeling masks
Safety & emergency equipment
Sun protection (boat shade)
Sundeck cushions
Music (USB, AUX and Bluetooth)
Swimming stairs
Raincoats
12V socket
Soft and comfortable pillows to sit and enjoy
Not allowed on the boat:
Large travel bags
Smoking
Recommended to bring:
Swimwear and towel
Booking confirmation (printed or in mobile form)
Passport or Government-issued ID with a photo
Sunglasses
Sunhat
Camera
Sunscreen (we suggest SPF 30)
Comfortable shoes or sandals
Jacket for chilly weather
Important notes:
If you want to go inside the church you must have a t-shirt (it is not allowed the enter in swimwear)
It is forbidden to use drones and to swim at Our Lady of the Rocks
During April, May, September, and October, the church of Our Lady of the Rocks and the museum are open until 5 pm. In June until 6 pm, and in July and August until 7 pm
We recommend you dress warmer during the spring and autumn months because it can be chilly
Pets are allowed on board
MONTENEGRO SUBMARINE AND SPEEDBOAT TOUR LOCATION
It is very easy to find our location and starting point. Whether you are coming from the Old Town of Kotor or from Cruise Ship Terminal, here is a photo to help you find it OR you may check it via Google Maps here.
The tour Bay of Kotor and Blue Cave Adventure starts at the city park near Kotor's port, 200 m from Old town's main gate (red pin).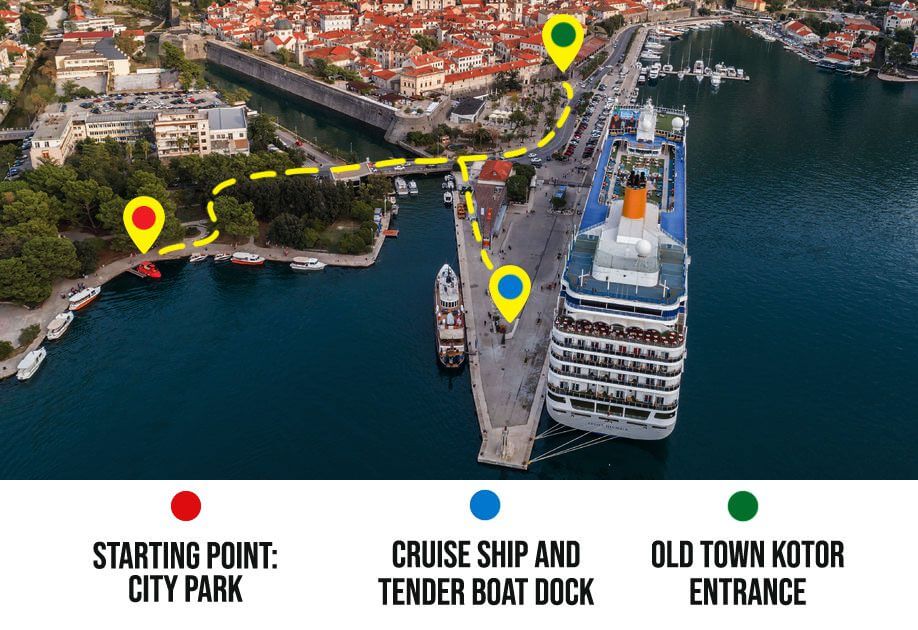 You will see a big red sign MONTENEGRO SUBMARINE & SPEEDBOAT TOUR.
If you have any questions, you may contact us via WhatsApp, Viber, or Telegram at +382 67 711 999, +382 69 576 355, and +382 67 811 927 or via chat on our site.
You can also write to us at [email protected]
IMPORTANT QUESTIONS AND ANSWERS
I would like to rent a boat and a private Kotor Bay tour for me and my friends. We are a small group, up to 10 people max. Could you please tell me what the prices are?
We have several boats, compatible with boat rental in Kotor for different group sizes. If you are a group of up to 10 people, then we can arrange a boat tour in Kotor with one of the Atlantic Marine Open 670 made in 2020 and 2022.
The boat rental price is 70€ per 1h for up to 6 passengers. For each person, it's 15€ extra per hour.
If we rent a boat in Kotor, Montenegro for 2 hours, what is the total price?
The total price of the Boka Bay private boat tour depends on the number of passengers. For 6 people, a 2-hour speedboat tour costs 140€. For each additional person, it has to be paid 15€ per hour.
What is the price if we decide to rent a boat for a day in Kotor Bay?
Boat rental is available for 8 hours max. If you decide to rent a boat in Kotor, Montenegro for a private tour for 6 people for 8 hours, it would be 560€ in total.
What are the minimum and maximum times I can rent a boat in Kotor for?
Our shortest private speed boat tours last for 1 hour and the longest boat rental private tours are 8 hours.
Is it allowed to bring on a boat tour our own food and drinks?
Yes, you may take your own food and drinks (sandwiches, snacks, light meals, etc.).
If we are a group of fewer than 10 people, can we book a private boat rental in Kotor, and what is the price?
Yes, you can book a private boat Kotor tour for fewer than 10 people. For 6 people, a 1h tour is 70€. If you are a group with fewer than 6 people, the minimum price you pay is 70€. And if there are more than 6 people, each person extra pays 15€ per hour.
We are a group of 10 people. We would like to rent a boat for a private tour in Kotor. Can you tell us the details about payment for children?
For this tour, you can find details on this link. For children under 3, tickets are free of charge.
What is the maximum passenger capacity of your boats?
The maximum capacity of our speed boats is up to 250 people.
What does the private rent-a-boat Kotor tour for up to 10 people include?
Choosing this tour gets you fresh water to drink and diving masks. You get to choose the route, so it's up to you to decide where you want to go and what you want to see in Kotor and Boka Bay, with the fuel included in the price. The price also includes an English-speaking skipper, who is also your guide. You have fast free WiFi access. Insurance, taxes, and fees are also included.
If you would like a hotel pick-up by speedboat, it is also free of charge in Kotor Bay. You can always contact us for any further questions or requests on our website or via WhatsApp, Telegram, or Viber at +382 67 711 999, +382 69 576 355, and +382 67 811 927.
What is the cancellation policy?
A full refund for the rent of a speedboat cancellation is required 24 hours in advance.
In case of bad weather, what is the policy of your company?
In this case, you get the right to have a full refund, or we can reschedule the private boat tour for some other day from the bay of Kotor.
Is it allowed to swim on the private Kotor Bay speedboat tours?
Yes, it is.
I am traveling with my children. Is there a boat shade or will we be exposed to the sun at all times?
Yes, there is a boat shade. Also, there is a sundeck in case you want to catch a little bit of the sun.
I would like to join you on one of your tours, even though I am not a good swimmer. Do you have life jackets on your speedboat?
Your safety is in the first place. We have life jackets available in all sizes - specially designed for babies, children (3 - 10 years), and adults.
Can you arrange a hotel pick-up in Kotor?
Sure we can. You have to make a request to contact us via WhatsUp, Telegram, or Viber at +382 67 711 999, +382 69 576 355, and +382 67 811 927.
Can I go on the private boat rental tour in my swimsuit?
You can board the tour in a swimsuit, but you cannot enter Lady of the Rocks without a cover-up, considering it's a church.
Can we swim near Our Lady of the Rocks Island?
Unfortunately, it is not allowed to swim nearby.
Is it allowed to film by drone near Our Lady of the Rocks?
Filming Our Lady of the Rocks is forbidden, unfortunately. But, you can use your mobile phone and make a video clip.
Is there music on the speedboat?
There is music on the boat. You may listen to your playlist via Bluetooth, AUX, or USB connection.
Am I allowed to take my pet with me on the private boat rental Kotor tour
Yes, you are. Pets are welcome on private tours.
Is it possible to smoke and have some alcoholic beverages onboard?
Alcohol is allowed while smoking is not.
Although I am on vacation, I have to be available to my clients. Do I get WiFi access?
Yes, you do. We have free Wi-Fi access and fast internet.
My husband is a licensed skipper. Is there any possibility to take a boat just for the two of us?
Unfortunately, there is no such possibility. Our skippers are obligatory on the tours.
Video