Blue Cave Adventure - 3h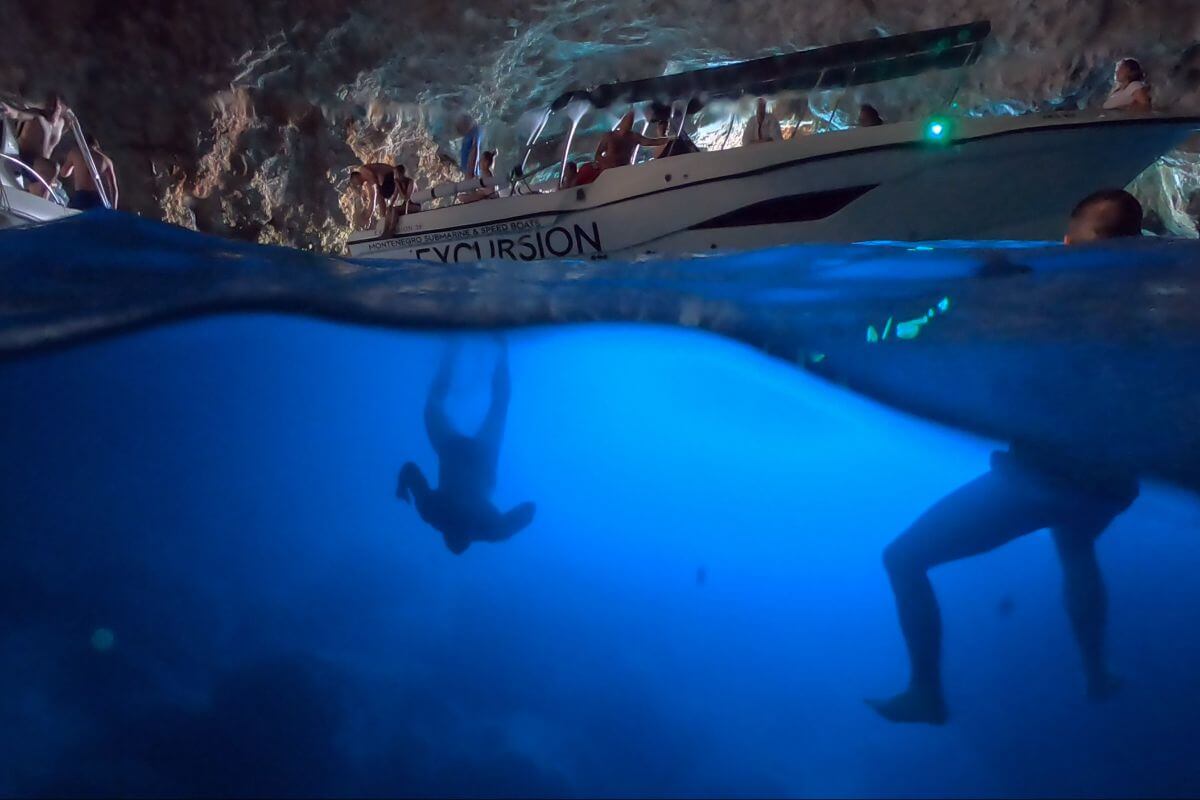 TOUR DESCRIPTION
Highlights
This is a tour that will give you complete pleasure during an exciting ride along the shores of the enchanting Bay of Kotor. You will enjoy a panoramic view of fishing villages, churches, and many other historical monuments.
How one Excursion can define the term Serenity
Your opinion about Kotor Bay might already be established, but what will truly cement your impression about this Montenegrin jewel is the cruise that lies ahead.
As soon as we start making our way through the calm waters of the bay, you'll be mesmerized by the seascape and the multiple timestamps, discernible by countless events that occurred in the history of the Bay of Kotor. While cruising through the place further down the line you can see many significant sites that embody the lifestyle of fishermen and other locals from this area. After a while, you'll either catch yourself lost in thoughts about the chronicles from the past or just enjoy your mindful sea trip.
After cruising the gulf for a while you'll have your eyes fixated on an islet in the middle of the bay. This very place is marked by legends that speak of Our Lady of Our Rocks. Namely, the folklore points to two fishermen (of whom one had a leg injury) who, after journeying with their ship, discovered an icon of the Holy Mother with Christ on a crag.
After taking it home, the icon disappeared the other day, along with the grave injury of the one fisherman! A few weeks later, they saw it once again on the crag and took an oath to build a church in honor of the gracefulness of The Holy Mother.
However, this could not happen at such a tiny spot, so they decided to throw rocks in this place, thus forming over time an artificial island that could bear the church.
The church has various artistic artifacts that visitors can take pleasure in; baroque paintings from local and foreign artists, an altar that has healing powers, a considerable collection of votives, tapestries, and much more.
Our peaceful journey carries on by sightseeing the beautiful confronting bays of Herceg Novi and Tivat, where the mixture of blue waters with towering green hills promise a deep connection between Men and Mother Nature.
The next stop, preceded by circling the spectacular island Mamula, is the Blue Cave on Lustica Peninsula – accessible only by boat(!). Its name derives from the beautifully nuanced blue water inside the cave, created by reflections from the light hitting the sandy bottom. The blue light radiates so brightly that one can see it even while approaching the spot. However, we decided that a better and more authentic experience would be to enter the cave and enjoy a short but refreshing dip underwater.
A possible last stop might be a short visit to the ex-submarine military base – where an intriguing story awaits you.
This tour is a definite must on any traveler's to-do list. Make sure to reach out and book an experience that you will never forget. Click here and book on time.
INFORMATION ABOUT TOUR
Included in price:
Free Wi-Fi access
Fuel
Water
Insurance
All Fees and Taxes
Licensed skipper and guide (English-speaking)
Not included in the price:
Soft drinks, beer, or domestic brands (rakija) can be purchased upon request before departure
Boat equipment:
Life jackets (available in all sizes): babies, children, and adults
Snorkeling masks
Safety & emergency equipment
Sun protection (boat shade)
Sundeck cushions
Music (USB, AUX and Bluetooth)
Swimming stairs
Raincoats
12V socket
Soft and comfortable pillows to sit and enjoy
Not allowed on the boat:
Large travel bags
Smoking
Recommended to bring:
Swimwear and towel
Booking confirmation (printed or in mobile form)
Passport or Government-issued ID with a photo
Sunglasses
Sunhat
Camera
Sunscreen (we suggest SPF 30)
Comfortable shoes or sandals
Jacket for chilly weather
Important notes:
If you want to go inside the church you must have a t-shirt (it is not allowed the enter in swimwear)
It is forbidden to use drones and to swim at Our Lady of the Rocks
During April, May, September, and October, the church of Our Lady of the Rocks and the museum are open until 5 pm. In June until 6 pm, and in July and August until 7 pm
We recommend you dress warmer during the spring and autumn months because it can be chilly
Pets are allowed on board
TOUR PLAN
You decide and make a travel plan. Our recommendation is:
MONTENEGRO SUBMARINE AND SPEEDBOAT TOUR LOCATION
It is very easy to find our location and starting point. Whether you are coming from the Old Town of Kotor or from Cruise Ship Terminal, here is a photo to help you find it OR you may check it via Google Maps here.
The tour Bay of Kotor and Blue Cave Adventure starts at the city park near Kotor's port, 200 m from Old town's main gate (red pin).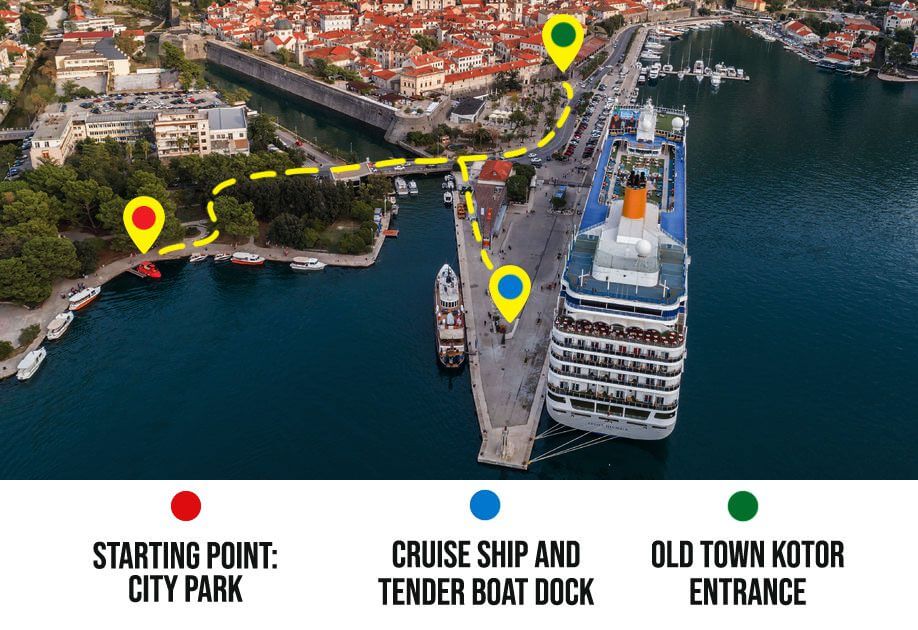 You will see a big red sign MONTENEGRO SUBMARINE & SPEEDBOAT TOUR.
If you have any questions, you may contact us via WhatsApp, Viber, or Telegram at +382 67 711 999, +382 69 576 355, and +382 67 811 927 or via chat on our site.
You can also write to us at [email protected]
IMPORTANT QUESTIONS AND ANSWERS
What is included in the Montenegro Blue Cave speedboat private tour and the price?
The private tour includes cruising around Kotor Bay, fishing villages, churches, and many more historical monuments. And for the price of 210€ per 6 persons you get: Licensed English-speaking skipper, hotel pickup by boat (if previously agreed with our company) in Kotor Bay, free Wi-Fi access, water, insurance, and all fees and taxes.
What is not included in the price of the speedboat tour? Is there something else I should know?
There are no soft drinks on the boat and there is no alcohol. Beer or domestic brand (rakija) can be purchased upon request before departure. Facultative trips are not included.
Guest pick-up via boat in Tivat or Herceg Novi Bay is done upon request.
I am traveling home after the tour. Can I bring my luggage with me?
No, travel baggage (luggage) is not allowed on the boat. If you have luggage please write to us prior to the tour.
Is the speed boat well equipped? Do you have safety equipment?
Yes and yes. Besides safety equipment, there are snorkeling masks, life jackets (available in all sizes), boat shade (sun protection), music (USB, AUX, and Bluetooth connections), swimming stairs, raincoats, and 12V socket. If you need anything else, please contact us, and let's see if we can get that for you.
When do I have to pay for the tour?
The payment has to be done 10 days prior to the tour in the case of paying by wire transfer. Paying by credit card can be done till 1h before the tour. PayPal is available, as well.
I can't find the starting point. Can you pick me up at the Kotor Ship terminal?
The starting point is actually just a few minutes away from the Kotor Ship terminal. We cannot pick you up from there, unfortunately.
Can I record everything with my Drone Camera?
You may use your drone but we are not responsible for anything that happens to your drone, or if you lose it. Also, please note that drone recording at Our Lady of The Rocks is not permitted.
I know the island of Mamula has a great history. Can we visit the island?
Unfortunately not. This is not an option since the Mamula is private for the time being. We are coming close to the island so that you can listen to interesting stories and take great photos.
I would like to visit the church of Our Lady of The Rock. Do I have to wear a scarf over my head?
No, you don't have to wear a scarf over your head but you need to be properly clothed. Entering the church in a swimsuit is strictly prohibited.
I have a pet with me. Can I bring it to the private speed boat Kotor Bay tour?
Pets are allowed for this private tour.
My husband (wife) is in a wheelchair. Can he or she come to the tour?
Yes - if the wheelchair is foldable.
Am I going to get splashed by water? Can I wear my everyday clothes?
Yes, you may wear your everyday clothes since you will not get wet in the boat. Just make sure you have a scarf or something to cover up in case there should be wind.
I have prepared sandwiches. Can I bring my own food?
Yes, you may bring your own food (sandwiches, light meals, snacks, drinks, etc.)
My stomach doesn't handle the sea very well. Is this tour ok for me?
Yes, this is just a 3-hour tour and you will not feel sick.
Can I get a private Montenegro boat tour? For example with my whole family.
Yes, private tours are possible for up to 10, 13, 15, and 25 passengers. Please note that our skipper is mandatory and is included in the price.
Can we get cold water? Do you have a fridge on the boat?
Yes, there is a fridge on the boat. And yes, you will get refreshing cold water.
Can I charge my phone on the boat?
Yes, we have charging plugs on the boat - 12V.
I don't have enough funds on my card. Can I pay via PayPal?
Yes, we accept both payment methods.
I can't find the starting point. Where is the City Park?
The city park is located near Kotor's port. You can find more info here or you can write to us anytime via WhatsApp, Viber, or Telegram at +382 67 711 999, +382 69 576 355, and +382 67 811 927 or via chat on our site.
There are 7 of us in the group. I see the price for 6 people is 210€. What is the procedure for more people?
Yes, the price for 6 people is 210€. For every additional person, the price is 35€.
I have a son who is 3 years old. Is the ticket price the same for kids?
The price for private boat tours is paid per hour. In this case, the tour for 3h is 210€ for up to 6 persons. Every additional person pays 35€.
We canceled our trip. Can we get a refund?
Cancel at least 24 hours in advance of the start date of the experience. Non-refundable for - 1 day prior to trip cancellations.
I booked a tour but I see that a storm is coming. Can we reschedule?
Yes, you may reschedule or get a refund.
Video